Are you looking for one of the 5 Best Solar Pathway Lights to illuminate your outdoor environment even when it's dark outside? Then, I suggest you read to the very end to get the full details.
Path lights assist in extending outdoor enjoyment well beyond dark and when solar-operated. Also, they don't even add to your utility cost. These lights, which draw solar power directly from the sun, rely on the day's sunshine to run.
Furthermore, they can maintain power from the sun with rechargeable batteries or distant solar panels. When considering utilizing the sun's energy for your house, the cost of solar panels may seem daunting. But how about a low-cost method of harnessing solar energy?
Solar-powered landscape lights allow you to brighten your outside environment without needing a power source other than the sun.
Solar landscape lighting may be a terrific option to add illumination to the exterior of your house because it is both simple to operate and environmentally friendly.
Solar landscape lighting comes in various configurations, from simple sidewalk lamps and streetlights to rows of bulbs.
They all have in common: they all use a small solar panel, which is usually located on top of the lighting element. Solar power, as opposed to grid-based electricity, is derived from a renewable resource.
Even on the modest scale of landscape lighting, moving in this direction is a great step. Landscape lighting may assist in increasing the security of your house by illuminating paths, brightening outdoor living spaces, and complementing the overall landscaping.
Solar-powered landscape lighting may achieve all this while saving money on electricity bills without requiring an electrical connection.
5 Best Solar Pathway Lights: Features/Factors To Consider
Features Of Pathway Lights
Quality
Durability is critical. Individuals will stroll and cycle past your lights since they are in the ground. That implies they must be of excellent quality, fit for purpose, and able to survive repeated usage.
Look for LED solar lights constructed of impact-resistant engineering-grade polycarbonate that meet IK10 requirements. It's also a good idea to look into the necessary certifications.
Temperature Of Color
It's also worth considering the color of your lighting. To reduce the quantity of blue light emitted, the International Dark Sky Association recommends that outdoor lighting is of a warmer color temperature.
This is because blue light attracts insects, which affects bats eating habits and behavior.
Automatic
Select lights that can identify when the light is dark and bright. This means that as soon as the light levels decrease, they will turn on, offering rapid lighting and comfort to everyone passing by.
This also means that the lights will switch off during the daylight hours when they aren't in need, saving battery for later usage.
Solar lights using motion detectors can also reduce or turn off entirely at night when there is little traffic, reducing the need for Artificial Lighting at Night (ALAN).
Waterproofing
It should go without saying, but when purchasing outdoor lights, make sure they are weatherproof. Don't just take the marketing words and assurances on the package at face value. Look for an IP68 certification instead.
This confirms that the product in question fulfills the strictest water and dust ingress criteria, guaranteeing that your new lights will withstand the years of use (and weather!).
Type of Solar Panel
Amorphous, polycrystalline, and monocrystalline solar panels are the three most frequent types of solar panels that we use to power solar lights.
Amorphous units feature a single photovoltaic layer covering the whole surface. As a result, they are slim, flexible, and light.
A single silicon solar cell makes up a monocrystalline solar panel. They are stiff and hefty yet excellent at efficiently producing power.
Polycrystalline solar panels are constructed from many silicon crystal fragments that have been fused. They are hefty and stiff, much like the monocrystalline variety. They are inexpensive.
Accessories And Features
The characteristics and accessories you require are critical components of how to pick solar lights. You have manual and automatic choices, as well as smart garden equipment. The color and intensity of other varieties vary.
Factors To Consider
Installation
Depending on your circumstances, installation may be an important consideration. LED solar lighting is often a low-disruption option suited for many applications.
Selecting a lighting solution that does not necessitate an expensive and time-consuming installation is critical. For example, some solar ground lights are straightforward to install.
Once in position, the glue cures in 30 minutes, and full usage of the walkway may be resumed in 24 hours. Minimal interruption, effort, and tension. Two working together could install more than 20 lights in just one hour.
Maintenance
Solar ground illumination is frequently employed in situations completely disconnected from the power grid. As a result, maintenance is a crucial consideration when selecting solar ground lights.
How much maintenance can you perform? If the response isn't much, you'll need to make sure you're choosing durable enough to withstand daily usage without requiring frequent maintenance.
Solar lights have the advantage of not requiring much if any, maintenance, but it's crucial to double-check this.
Working Time/Life After Full Charge
To expand on the preceding point, selecting a long-lasting product that will not need replacement is critical. Therefore, checking the lifetime of your solar light ought to be a top concern. Some solar lights, for example, have a battery life of at least 8 years.
In addition, what's the working time after just a full charge? A light that isn't working at nighttime after a foggy day won't suffice. You don't want to leave folks in the dark because of ineffective solar lighting.
Hence, it is best to look for solar lights that will not have a small lifespan or working time to prevent waste of money or frequent maintenance.
Visibility
The purpose of outdoor solar lighting is to assist individuals in finding their way in the dark. So, the final consideration when selecting a product is how much exposure it would provide users.
As a result, it is preferable to use solar pathway lights with a 360° signal and visibility of more than 500m.
Purpose
Before buying, consider how you intend to utilize your solar lights. For example, will you require it for a specific purpose, such as security and safety, or will you seek ornamental fixtures? Each application will necessitate distinct design choices and functionality.
PowerVersity.com will earn a tiny commission if you purchase a product from one of the links in this article. This enables us to keep the lights on, but it does not impact the price you pay. Visit our 
Affiliate Disclosure
 page for more details.
5 Best Solar Pathway Lights: Recommendations And Specifications
5. SOLEX 16 Pack Solar Outdoor Pathway Lights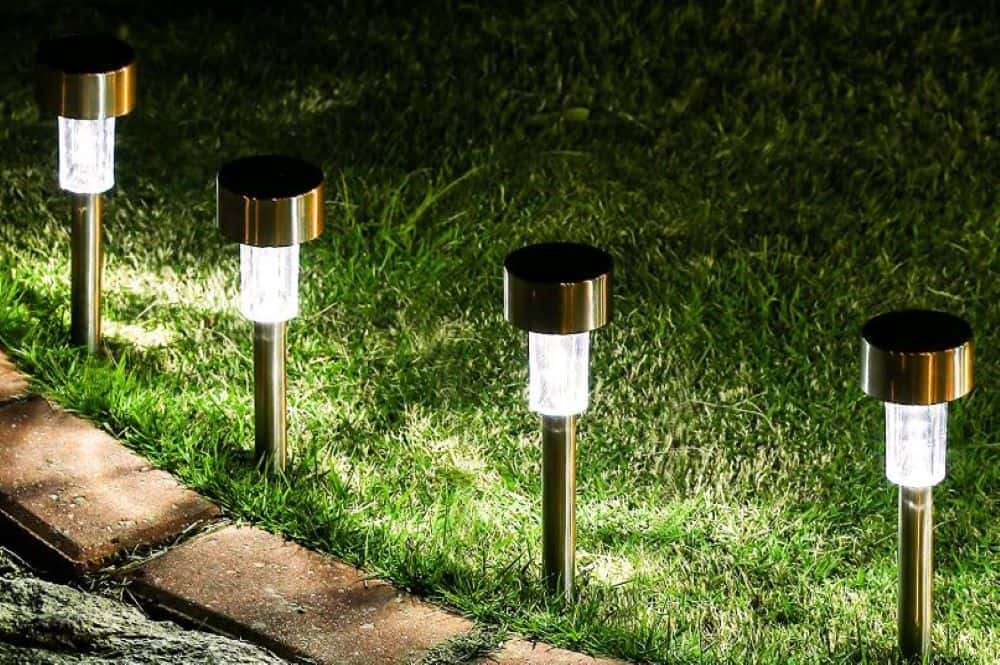 Making it to this list as the 5th best solar pathway lights is the SOLEX 16 Pack Solar Outdoor Pathway Lights.
This solar pathway light can be utilized as an attractive outdoor light in various settings, including gardens, lawns, villas, sidewalks, or yards. You may also put this pathway Outdoor colorful lights in glass bottles to decorate your windowsill.
Additionally, the cool white lighting contributes to the formation of a calm environment, which is excellent for both everyday and festive décor.
This solar-powered landscape light is outfitted with a solar panel that gathers and converts sunlight throughout the day. As a result, there is no reason to be worried about your power bills.
A lamp emits less electricity than a point does. This Solar Outdoor Light is also suitable for plants and pets. Solar patio lights are made of corrosion-resistant steel material for long-term dependability.
The landscape outside waterproof Lights with an IP44 weatherproof rating can withstand all forms of weather for an extended period. It is strong and long-lasting and can light your path home in any weather.
There's no requirement for wiring or excavation; place them together. This solar outdoor garden lamp is simple to mount. If the soil is too hard, loosen it before putting in the solar Pathway light. Furthermore,
It may be programmed to switch on automatically throughout the night and turn off automatically in the morning. To minimize damage to the lampposts and ground plugs, loosen the soil with a shovel before putting the solar lights into the ground.
There are 16 Solpex fence solar lights in a package, one 1.2V 100mAh 3A NI-MH rechargeable battery (pre-installed), and each light is 14.37 inches tall with a 2.28-inch diameter at the top.
Pros
The light has a snowflake-like pattern due to the double-ring construction.
Also, it is made from high-quality polysilicon for long-lasting use.
Further, the lights begin charging automatically after nightfall, saving money.
Con
The brightness level may be average.