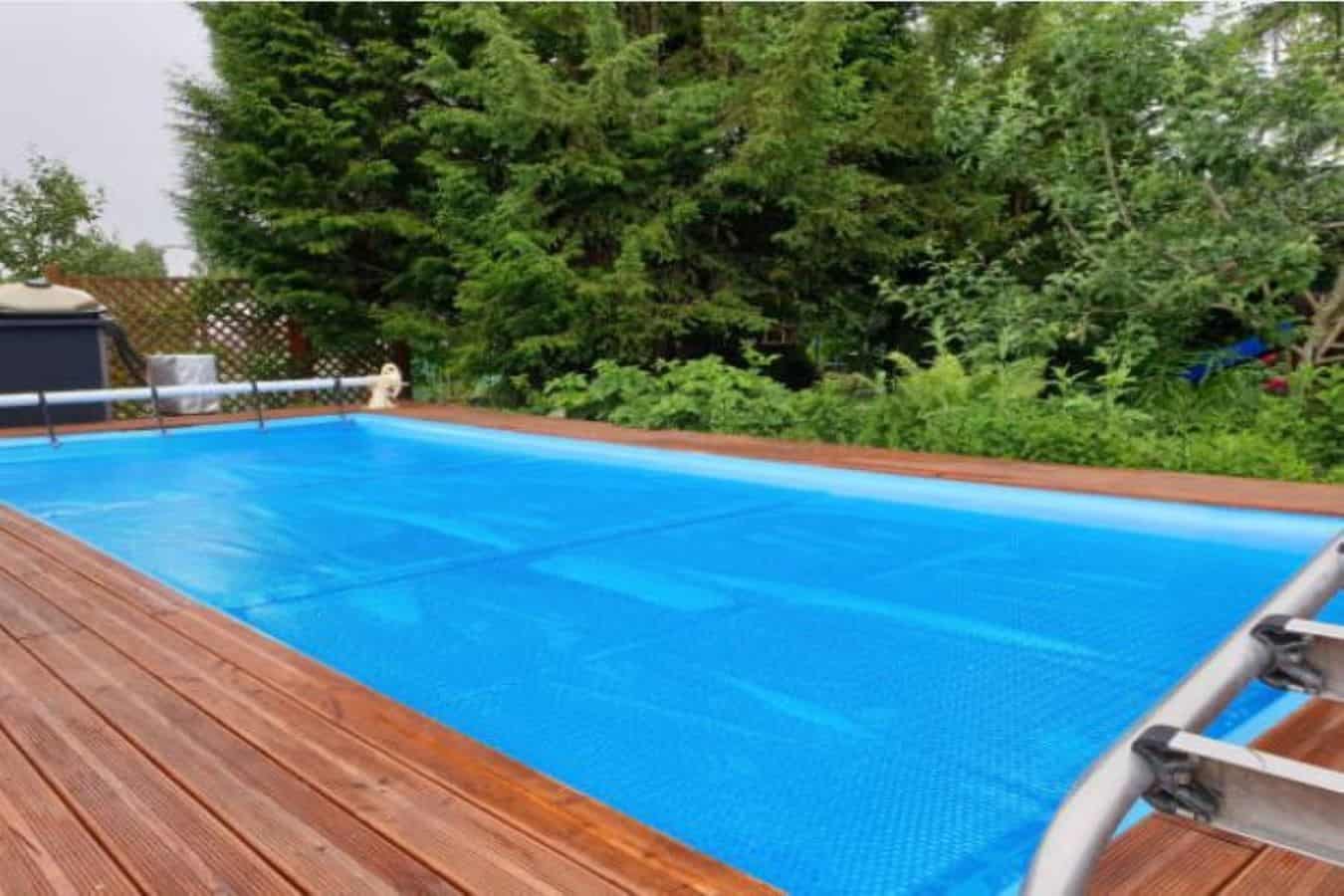 Have you considered buying a solar pool cover but do not know how to determine a good one? Then, this buying guide to the 5 best solar pool covers is all you need.
This Powerversity article is a selection of the 5 best solar pool covers with detailed explanations and specifications. However, for better assimilation, I will explain each point of this article in sections.
Each section will carry vital information on how to select the best solar pool cover from my list.
To start with, I will give a detailed explanation of the meaning of a pool cover as well as a solar pool cover. After which, I will state the benefits of using a solar pool cover and how it serves a very useful purpose for your pool.
Furthermore, I will proceed to discuss the features and factors to consider before buying a solar pool cover. This section will aid your knowledge of what to look for in the pool cover you buy.
In addition, I will present the specifications of my 5 best solar pool covers in a table with each comparison. Immediately after this section, I will give a review of my 5 best picks.
Even more, my review will extensively discuss the features and functions of each of my 5 best solar pool covers, along with their pros and cons. Finally, in the section after this, I will provide suitable answers to some frequently asked questions.
Moreover, there is every tendency that this section will give satisfactory answers to your pending questions. Finally, and on a final note, I will share my final thoughts.
Therefore, I urge you to read through till the end of this article as I unveil my 5 best solar pool covers in descending order.
Solar Pool Cover Meaning
Before I proceed to explain what a solar pool cover means, we will need to first understand what a pool cover means.
A pool cover is otherwise known as a pool blanket. It is a big, heavy-duty sheet with bubble wrap that is made from transparent plastic like polyethylene or polypropylene.
On the other hand, a solar pool cover is a large sheet of heavy-duty bubble wrap that is also made from light and transparent materials like polypropylene and polyethylene but with an air bubble absorption feature.
However, this feature helps absorb heat from the sun and further sends it to the water. Thus causing the water in the pool to be heated.
In addition, one of the greatest investments a pool owner can make is getting a pool cover for their pool. This is because it will save your pool from a lot of damage that may affect it.
Even more, it is very easy to install. Hence, you may not need the help of an expert to install your solar pool cover.
Going forward, I will quickly discuss some benefits you, as a user, tend to get from using a solar pool cover.
Benefits Of Using A Solar Pool Cover
Below are some of the advantages of using a solar pool cover:
It prevents leaves and debris from entering the water.
Using a solar pool cover will help reduce the stress of having to clean the pool almost daily because leaves and other debris might cause a lot of mess on the surface of your pool.
And this might resolve to be a big battle between yourself and the dirt. Hence, with a pool cover, you will have the best cleaning experience, as you can easily sweep the specks of dirt off the cover.
It reduces the use of water.
Also, a pool cover helps reduce the rate at which the water in your pool evaporates, And as such, it reduces the rate of water loss.
Even so, you do not have to refill your pool often because it preserves the water and keeps it clean at all times.
It helps to retain heat in the pool.
Because a solar pool cover works directly with the sun, it helps reduce the rate at which the pool loses heat.
Therefore, it creates a conducive and comfortable swimming atmosphere for you, regardless of the weather.
It gives extensive swimming time.
During autumn and spring, a solar pool cover is useful as it increases the pool's temperature up to 8oC with direct sunlight.
Thus, you tend to have an extended swimming time without using a pool heater.
You spend less time cleaning.
Using a solar pool cover will help reduce how often you clean the pool. Instead, you have more time to relax in the pool, which also saves you the cost of frequently buying chemicals.
My review section will extensively explain the other benefits of a solar pool cover. Hence, let us proceed to the factors to consider section.
Best Solar Pool Covers: Factors To Consider
Before buying a solar pool cover, there are some basic factors that you need to take into consideration. These factors will help you determine the best product to buy.
Therefore, in this section of the article, we will be discussing some of these factors.
Dimensions Of The Pool
As a pool owner, you must know your pool's shape and size because this is a great determinant in choosing the perfect size for your pool.
Also, to be on the safe side, buying an oversized pool cover is better than buying a smaller one because a bigger size will fit perfectly and aid in adequately transmitting heat to your pool.
Thickness
Another vital factor that you need to look out for when buying a solar pool cover is the thickness. A thick solar pool cover usually ranges between 6-16 mils.
Even so, these mils have various prices. Therefore, you have to select the thickness in mils based on how much you are willing to pay for the solar pool cover.
Moreover, the thickness is between thin pool covers (8–10) mils, thicker covers (12–16) mils, and medium-range covers (10–12) mils. Although these covers have different functionalities and quality, they are considered to be good.
Material
As I explained earlier in the introduction section, solar pool covers are made from light, transparent materials like polyethylene, polypropylene, and vinyl.
Here, I will briefly explain each of these materials and why you should pay detailed attention before buying any of them.
Vinyl: This type of material is durable, UV-resistant, and strong. Hence, it is a great choice for anyone to remove the cover from the pool in a very shorttime.
Polypropylene: They are durable and thicker but very flexible compared to polyethylene. Although they are difficult to roll and fold, they are strong enough to block a lot of UV radiation.
Polyethylene: These types are affordable, heat-transfer efficient, and lighter. However, they are likely to tear if the thickness is between the medium-range types.
Ease Of Use
It is also important to look at how easy it will be to use your solar cover. Choose a solar pool cover that can be easily set and used.
More so, it is very easy to forget how some of these covers are being set. Therefore, do away with covers that will be stressful to set.
Color
Aside from serving a decorative purpose to your pool, the color of a solar pool cover will also determine how well the cover will function.
Thus, you should understand how each color works and its functions in your pool. Below is a brief explanation of each color:
Clear Solar Cover: This color allows direct sunlight to pass through the water to warm the pool. Also, it acts as an insulator at night and also retains heat.
However, it will not block UV rays, which can result in a breakdown of chlorine.
Translucent Solar Cover: It is similar to the clear solar cover but blocks more UV rays from reaching the pool, which in turn heats the water quickly.
Dark Solar Covers: They absorb heat from the sun effectively, block a large sum of UV rays, and also warm the pool easily.
Clear-Top/Dark Solar Cover: This color transfers solar heat effectively and blocks UV radiation. More so, it reduces how skin-irritating chloramines are formed.
Light Blue or Silver Covers: These types are between transparent and dark covers. Hence, it is a better choice because it blocks some UV radiation and allows solar heating.
UV Resistance
The material, thickness, and color determine the UV resistance of any solar cover. However, there are three classifications for the UV resistance of a solar cover which are:
High UV Resistance: These types can either have bubbles or not. However, the ones with bubbles have dark colors at the bottom and clear colors at the top.
While the ones without bubbles have dark colors with vinyl material that absorbs solar heat and blocks UV rays.
Medium UV Resistance: These types are usually blue or gray covers with polyethylene or polypropylene materials. More so, they range from 10 – 14 miles.
Low UV Resistance: They are the types that fall below 10 mils. Hence, they are lightweight and can easily heat the pool. Although, you will need to use a chlorine stabilizer to reduce the production of chloramines.
Warranty
The warranty is a compulsory feature you should check before buying a solar pool cover. Although most manufacturers offer a 1-year product warranty, some offer a 2-10 years warranty.
However, ensure to buy from a brand with a long warranty.
PowerVersity.com will earn a tiny commission if you purchase a product from one of the links in this article. This enables us to keep the lights on, but it does not impact the price you pay. Visit our 
Affiliate Disclosure
 page for more details.
Best Solar Pool Covers: Specifications And Comparison Table
5. Blue Wave NS115 8-mil Solar Blanket
My 5th best solar pool cover is the "Blue Wave NS115 8-mil Solar Blanket:
This solar pool cover has an insulating thermal cell that traps heat and retains warmth on cool, cloudy days. Hence, it allows you to swim comfortably in warmer water throughout the summertime.
Also, it is an 8-mil solar blanket of high quality that uses passive solar heating to raise your swimming pool's temperature by up to 15 degrees Fahrenheit.
In addition, this solar pool cover is made with protected polymer and is designed to withstand various weather conditions.
Furthermore, with this solar blanket, you can prevent 95% of your pool water from evaporating. Moreover, this reduction in evaporation will save you time and money.
Lastly, this solar blanket has a 3-year manufacturer warranty.
Pros
It is durable.
Also, it has a 3-year manufacturer warranty.
Even more, it has a feature that reduces evaporation.
In addition, it retains heat for a long time.
Finally, it is made with protected polymer.
Cons
There are no traceable cons.