Are you in doubt about choosing the 5 best solar chargers for your car? Read through this Powerversity buying guide on the 5 best car solar chargers to help clear your doubts with detailed info and specs.
This PowerVersity buying guide selects the 5 best car solar chargers you can depend on when choosing any. First, I will pick my products, starting with the 5th car solar charger. Then I will move on in descending order till I get to the best.
However, to get the best on my lists, stay around till the end of this article. Then, be assured that you will get essential details to help you purchase the best car solar charger for your needs.
For clarity, this article is written in different sections. Each section will provide detailed information about buying a solar car charger.
More so, the first section will be an overview of the topic. In this section, I will explain the meaning of a solar car charger.
After knowing the meaning of a solar car charger, I will explain the various benefits and setbacks of using a solar car charger. Then, we will move to the features/factors to consider section.
Furthermore, I will present the various specs and comparisons of each selected product in a tabular form. Hence, I will move to the section explaining my 5 best car solar chargers in detail. Also, I will highlight the pros and cons of each product.
Finally, I will share my final thought with you. Therefore, let's ride on.
What Is A Solar Charger?
When you hear of a solar car charger, the first thing that comes to mind is, "WHAT IS A SOLAR CHARGER?"… This article will help you solve that curiosity with a detailed explanation of all you need to know about Solar chargers.
A solar charger is a charger that uses solar energy to supply electricity to devices or batteries. More so, they are generally portable.
However, solar energy, in this regard, converts sunlight into usable energy forms. Even so, several steps are involved in catching the energy that comes from the sun and converting it into electrical energy.
In addition, photons from the sunlight help carry enough energy that pushes the electrons from their orbit in some elements(silicon).
Furthermore, solar battery chargers do not charge the lithium-ion battery in your devices directly. Instead, it charges an internal rechargeable battery in the device.
Hence, it is charged through the solar modules and then distributed to your gadget to avoid requiring an external electrical source.
5 Best Car Solar Chargers: Pros And Cons
Pros
Lightweight
Solar battery chargers are usually very light and portable. Hence, they are easy to be carried about. On the other hand, it often weighs four to five pounds, making it easy to use and not burden the users.
Application
Unlike standard chargers that require an outlet, a solar battery charger works theoretically when the vehicle moves. You can conveniently plug the 12-volt socket into the car's dashboard and position the solar panel on it to absorb the maximum sunlight.
Versatility
Solar chargers are useful for car batteries, standard boats, ATVs, personal watercraft, and any vehicle that uses a 12-volt battery. Also, it has alligator clips that can be attached to battery terminals directly.
It Is Self-contained
A solar battery charger requires no outside power source to supply the battery with a charge because it is powered by the sun.
Even so, it converts absorbed solar energy into DC power and then transfers it immediately to the battery, thus, keeping it charged and prepared simultaneously.
Durable
A solar battery charger can operate during all weather conditions, from temperatures beyond 120 degrees Fahrenheit or even more. This means that the solar battery charger will work even when it is freezing in the middle of summer.
Also, they are low-powered. Hence they work well as maintenance chargers.
Even so, it is eco-friendly. Thus, it helps you to reduce your carbon footprint.
More so, it can help prolong a stationary vehicle's life cycle.
Cons
A solar battery charge also has some disadvantages that serve as a drawback to its benefits, and they include:
The power of a solar charger cannot be compared to that of a regular battery charger. This is because they are not as powerful as regular battery chargers. Hence, it takes more time to charge the batteries.
Also, it gives out minimal current; it is more useful for maintaining a charge than charging a completely drained battery.
However, you must be cautious if relying solely on a solar battery charger.
Factors to consider When Buying The Best Car Solar Chargers
Size
Solar chargers are available in different sizes. Therefore, the more power you need, the bigger the size of the charger.
For a car battery, you may need to buy a 12 Volt battery charger as it's usually easy to carry and lightweight.
You can keep it inside the car and carry it around easily. Moreover, it has enough capacity to sustain bigger things like cars, bikes, boats, etc.
Cables And Connectors
You tend to have various options when you have a solar battery charger with multiple connectors. Also, you must consider the size of the power cable.
The solar battery charger is a fantastic idea that may help us become more environmentally conscious by harvesting solar energy. As a result, investing in it may be the best way to reduce your carbon footprint and make the most of the sun.
Power
Solar battery chargers typically range from 2 to 18 volts. As a result, those with higher powers may be charged rapidly, while those with lesser powers do not risk overpowering your battery.
Efficiency
This is important because an efficient battery charger harnesses solar energy quickly. Thus you do not have to worry about not getting enough sun.
Therefore, they are also useful in winter when you have comparatively less sun.
PowerVersity.com will earn a tiny commission if you purchase a product from one of the links in this article. This enables us to keep the lights on, but it does not impact the price you pay. Visit our 
Affiliate Disclosure
 page for more details.
Comparison And Specifications Of The 5 Best Solar Car Chargers:
5. Schumacher SP-200 Solar Battery Charger and Maintainer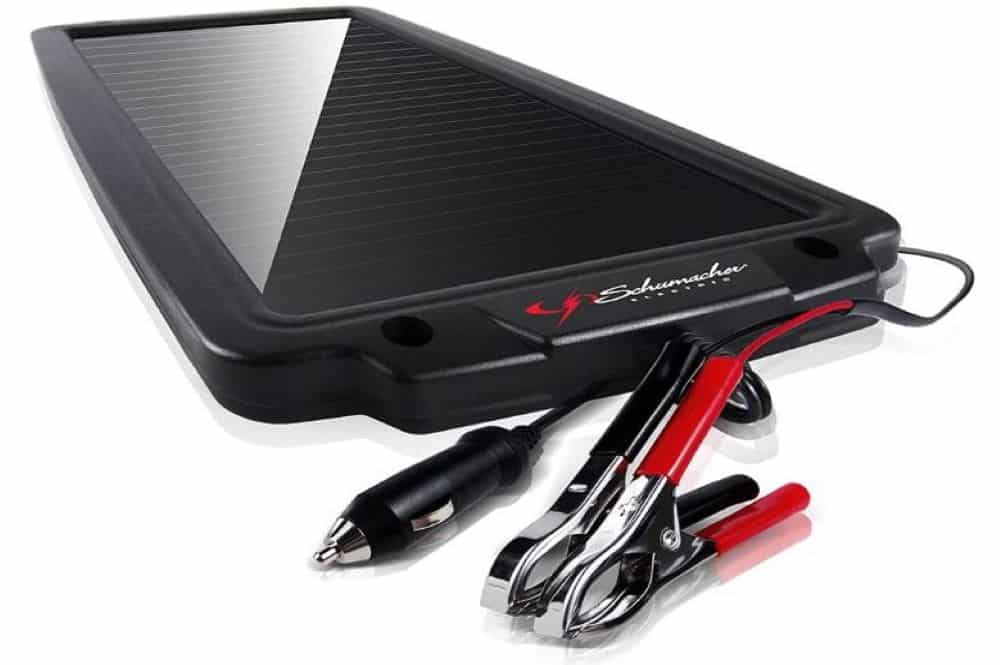 5th of my picks of the 5 best car solar chargers is "Schumacher SP-200 Solar Battery Charger and Maintainer."
It is a solar-powered panel battery maintainer that utilizes amorphous solar technology to convert sunlight into power. Also, it is compatible with lead-acid batteries.
Even so, it is easy to use with its simplified, environmentally-safe design that offers plug-and-play usability and requires minimal maintenance.
More so, resistant to light rain and water splashes. However, do not submerge.
Furthermore, it delivers a 2.4-watt trickle charge to boats, cars, motorcycles, snowmobiles, trucks, and other 12V batteries.
Lastly, it does not require electricity. All you need to do is charge the maintainer by placing it panel-side up in an area exposed to daylight.
Moreover, it works in sunny and cloudy conditions.
Pros
It is solar-powered.
Also, it is easy to use.
More so, it is water-resistant.
Additionally, it does not require electricity.
Finally, it delivers a 2.4-watt trickle charge to cars, boats, and other 12V batteries.
Cons
The manufacturer did not specify the product warranty.