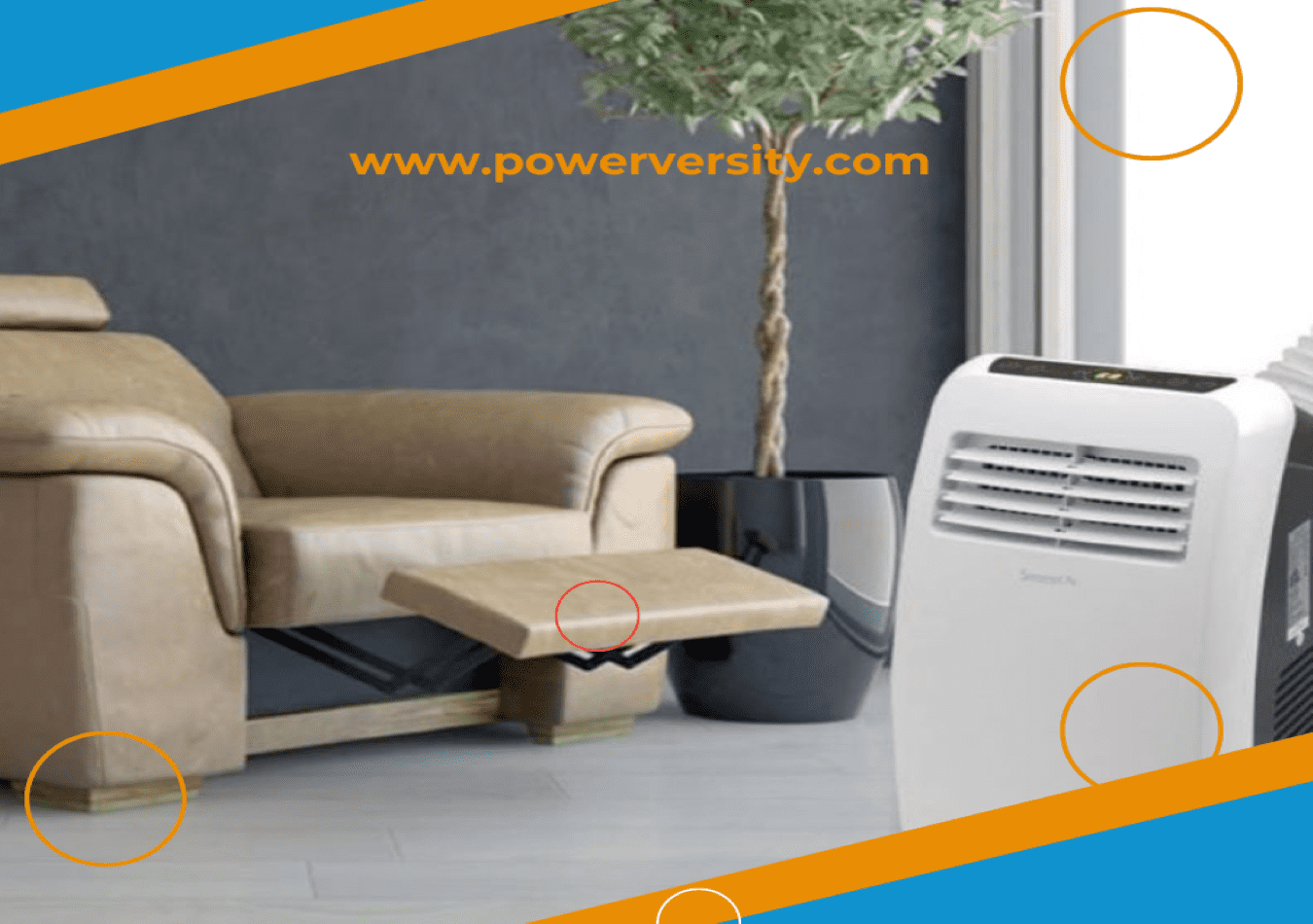 Are you looking to buy a ventless AC unit? Then this buying guide on the 5 Best Ventless Air Conditioners is just for you.
A ventless air conditioner makes it possible to soak up the heat and humidity in your house and replace it with cool air without making holes in your building.
This buying guide to the 5 best ventless air conditioners will give you everything you need to know about this device. It will also tell you what to consider before buying one of these devices and much more.
A ventless air conditioner doesn't need you to drill holes or break through your building for installation. Further, they don't need vents because they only work to help cool the surrounding area.
This device simply works by pulling the hot and humid air through the mechanism of the fan in the machine. Further, the device's air runs through ice or other cooling agents. Then it gives out cool air.
However, these ventless air conditioners are not as effective as the traditional AC, but they are also an option. Even more, these devices are very easy to use and understand.
Choosing a ventless air conditioner has many benefits, including its design and portability. Also, the device cools the existing air instead of getting air from the outdoors.
Using this technique, a strong cooling system is provided without any vents. In addition, these appliances don't have an exhaust hose inside because, unlike traditional air conditioners, ventless air conditioners do not have a heat transfer or refrigeration mechanism.
As a result, within the appliance, there is no creation of warm air. It does not, therefore, require an exhaust hose to dangle from the window.
Features To Consider Before Buying A Ventless Air Conditioner
Let's consider some things in this buying guide to the 5 Best Ventless Air Conditioners when buying one of these devices.
Drainage Requirements
A lot of contemporary portable air conditioners employ auto-evaporative technology, which chills the compressor coils using water drawn from the air during chilling.
As a result, the system will run more effectively, and you won't need to empty the water reservoir as frequently. In dry climates, you might not even need to empty it.
Also, if you decide against purchasing a self-evaporative air conditioner, consider the tank capacity and the availability of continuous draining through a hose.
Size Of The Device
Some buyers intend to keep portable air conditioners confined to a single space when purchasing portable air conditioners.
However, others value portability and desire to relocate their air conditioning unit from one room or location to another. Therefore, it's crucial to get an air conditioning unit that you can move easily if you fit into the latter type.
Even more, you should be mindful of the weight and size of the air conditioner. Does it fit in your vehicle? You should be able to pick it up on your own. Does it have wheels to make moving it easier?
Factors To Consider Before Buying A Ventless Air Conditioner
EER (the Energy Efficiency Ratio)
The Energy Efficiency Ratio (EER) measures the cooling capacity of a room air conditioner compared to the energy it consumes. The efficiency increases as the numbers rise.
Currently, there is a mandate for a minimum of 10 EER by legislation. Furthermore, if a product description doesn't provide the EER, you may figure it out by dividing the BTUs by the watts.
BTUs (British Thermal Units)
British Thermal Units (BTUs) are the unit of measurement that determines a portable air conditioner's cooling capacity. The cooling capability of the cooling system increases with BTU values.
These recommendations can occasionally change across manufacturers and depend on several factors, including how sunny or gloomy the space is, how many people are there, and whether you're using the appliance in the kitchen.
Space Or Size Of The Room
It's crucial to get a portable air conditioner that fits the space where you intend to use it. For example, a room air conditioning system will have to work twice as hard or three times as hard to deliver adequate cooling if you place it in an area that is too big for it.
However, a portable air conditioner that is too large for the space you place it in won't be as effective at removing moisture from the air, leaving you chilly and sweaty.
Furthermore, it will have to switch on and off more regularly, resulting in a less efficient operation than a smaller one that operates continuously.
Noise
It is best to consider the decibel levels of a portable air conditioning unit before you purchase the device, especially if the sound in your interior environment is a concern.
Further, most are around 45 to 50 decibels, which isn't much louder than wind-ruffled leaves. There are, however, some exclusions, so make sure to double-check before you buy.
Cost
For personal usage, portable air conditioners can cost anywhere from $150 to $800, while systems for commercial use can cost over $10,000. The most important of these is the air conditioner's power, which may affect a wide range of costs.
Also, prepare to pay more for a portable air conditioner that is intended for a large living area than for one that is intended for a tiny bedroom.
These additional functions and features, like remotes or programmable timers, will typically push the price of portable air conditioners higher. Many of them also function as heaters or dehumidifiers.
As with other things, investing in a brand recognized for producing durable portable air conditioning units may cost more initially. Still, you'll save money by avoiding the hassle of purchasing a new one for several years.
Energy Consumption
Since air conditioners consume a significant amount of energy, as you are probably aware, the device's price only tells a portion of the true cost of a portable AC.
Energy Star estimates that 13% of the energy spent on a typical house is spent on cooling expenses. Therefore, be careful to take energy efficiency into account while deciding which solutions are the most cost-effective.
PowerVersity.com will earn a tiny commission if you purchase a product from one of the links in this article. This enables us to keep the lights on, but it does not impact the price you pay. Visit our 
Affiliate Disclosure
 page for more details.
5 Best Ventless Air Conditioners: Table Of Specifications And Recommendations
Product Reviews
5. 5 Best Ventless Air Conditioners: Shinco 8,000 BTU Portable Air Conditioner
Coming in as the 5th best in this buying guide for the 5 best ventless air conditioners is the Shinco 8,000 BTU Portable Air Conditioner.
This lightweight 8,000 BTU portable air conditioner can quickly cool rooms up to 200 square feet. Further, those rooms can be in a house, bedroom, dormitory, flat, cabin, campground, or workplace.
Even more, all you need to do is to switch to the first-speed setting. Then, after the room is chilly, this air conditioning system will become silent, keeping the temperature constant while you sleep.
There are three operating modes: cooling, dehumidifying, and fan. Your demands may be met, and the 2-speed fan can cool your room.
Moreover, this air conditioner keeps your home cool, tidy, and dry with a 19.2 liter per day dehumidification ability and bucket-less, self-evaporating operation. Furthermore, this device is just ideal for your proposed room cooling system.
A 24-hour timer, an LED display, a simple selection panel, a full-featured remote, and a low-speed mode with a quiet 55dB output for peaceful evenings are all included in this device as part of its wonderful features. Additionally, it may be placed wherever thanks to its four caster wheels.
The installation comes very easily. All you need to do is to place your air conditioner at the desired cooling location, then secure the movable window frames and 59″ hose.
Cooling will start as soon as you turn on the device. Assembly does not require any additional tools. In addition, anyone can complete the installation instructions because they are so basic.
Shinco offers a high-quality replacement or full refund policy that includes our goods and a one-year warranty. In addition, their customer service will respond to you within 24 hours and work with you to find solutions.
Pros
This device has a controller that makes it simple to use.
Furthermore, it has built-in 3-in-1 functionality that makes it simple to modify to your needs.
Also, four castor wheels are included, making it simple to transfer from one location to another.
Lastly, this device comes with a 1-Year warranty.
Con