What Is A Counter-Depth Refrigerator? Adding a refrigerator to your kitchen can go a long way in completing your kitchen cabinet or even disfiguring your kitchen setting.
You need to center your purchase around functions and features regardless of your needs.
You also need to consider if the refrigerator will blend in well with the aesthetics of your kitchen layout. That said, the fridge-shopping process can be stressful because of the handful of options you can choose from.
These options can be classified into different forms. Amongst these forms, we can classify refrigerators by installation type – the counter-depth and standard-depth refrigerators.
This brings us to our main concern for this edition – "what is a counter-depth refrigerator?" Join me as I cover everything you need about the counter-depth refrigerator.
What Does A Counter-Depth Refrigerator Mean?
A counter-depth refrigerator is closer to the depth of your kitchen countertops. It measures around 24-30 inches deep – about 9-12 inches less than a standard fridge.
As a result, the counter-depth refrigerator has a more shallow depth compared to that of traditional refrigerators (30-36 inches). Counter-depth fridges are usually wider and a bit taller than traditional fridges to compensate for their narrower depth.
This means that a counter-depth refrigerator will sit almost completely flat with countertops, giving your cabinets a streamlined, built-in appearance.
To be clear, "counter-depth" refers to the space between the front of your counters and the wall or backsplash in your kitchen. A counter-depth appliance is made to fit the depth of the counters, with the front of the appliance aligning with the countertop's edge.
What Is The Difference Between The Counter-Depth And Standard-Depth Refrigerators?
Counter-depth refrigerators are 24–25 inches deep, similar to the depth of kitchen counters. Standard-depth refrigerators are normally 30–36 inches deep and can extend out half a foot or more past countertops.
Meanwhile, the counter-depth refrigerators are nearly level with counters and cabinets. Counter-depth refrigerators provide the same seamless design and unique look as professionally installed built-in refrigerators but at a lower cost.
The refrigerator doors will be level with the cabinets and counter rather than protruding awkwardly. Smaller flats, condos, and tiny galley kitchens benefit greatly from counter-depth refrigerators.
After all, Counter depth refrigerators have a shallower structure than normal depth refrigerators due to the removal of a few inches.
What Is A Counter-Depth Refrigerator: Styles Of Counter-Depth refrigerators.
There are four main styles of counter-depth refrigerators. We have the French door, side-by-side, top-freezer, and bottom-freezer types. If you have a limited kitchen space, you can also get a top or bottom freezer refrigerator with a narrower width and depth to help better use the small space.
French Door Counter-Depth Refrigerator
The French door refrigerator has two doors on top and one or more freezer drawers on the bottom. You'll see a single refrigeration space when you open the French door.
Since a French-door refrigerator requires less space to open each compartment than a single-door refrigerator, they have become a popular choice for any kitchen design.
Side-By-Side Counter-Depth Refrigerator
Side-by-side refrigerators have two doors extending the entire refrigerator length. The refrigerator is on one side, and the freezer is on the other thin side.
To help maximize space in small kitchens, some side-by-side refrigerators have narrower doors.
Top-Freezer Counter-Depth Refrigerator
This is the conventional refrigerator layout. The top freezer refrigerator has a freezer compartment on top and a single refrigeration chamber below.
The handles are usually on the left side of the appliance, opening toward the right, but this varies according to the type.
Bottom-Freezer Counter-Depth Refrigerator
Refrigerators with a bottom freezer drawer or door have a refrigerator on top and a freezer drawer or door below. In this regard, it's comparable to a French door type, except instead of two refrigerator doors, it only has one.
The refrigerator door can open to the right or left, depending on the model.
Is A Counter-Depth Refrigerator Ideal For You?
When choosing a counter-depth refrigerator, the goal is to have a more streamlined appearance that is appealing in terms of design.
When installing a new refrigerator, you may consider that they are occasionally taller and typically wider than classic depth versions of the same capacity.
Though the counter-depth design is a popular choice, you should consider the advantages and disadvantages of this refrigerator model, especially since it's a long-term investment.
Measuring Your Usable Space For The Counter-Depth Refrigerators
You must take the dimensions of your available space. Although the size of each refrigerator varies by model and brand, it is an important step to get a precise measurement of your refrigerator and kitchen space.
Take note of where you intend to put the new refrigerator. Measure the width of the upper cabinet, countertop, and base levels. The space should be measured at its narrowest point to guarantee an appropriate fit.
Measure the height from the floor to the lowest point on the upper cabinet. Double-check your measurements by taking them from the area's front and back. If the two measures are not equal, use the smaller of the two.
The depth from the front edge of your countertops to the rear wall behind the back of the fridge should be measured.
If you have a kitchen island, be sure there is enough clearance between the island and the refrigerator for delivery.
Check the angle of the freezer drawers and the door swing. Ensure each container can open completely without rubbing against the cabinets, the island, or the user.
What Is A Counter-Depth Refrigerator: Pros & Cons
Pros
Reduced open depth: This shallow-depth refrigerator gives you more room to open the doors without hitting islands or other kitchen items.
A more streamlined appearance: Many people like a counter-depth refrigerator because it gives their kitchen a more uniform appearance. The refrigerator does not protrude from the counter by several inches.
Easy access
Cons
While access is good on the Counter-depth, drawers such as crispers and deli compartments are shorter.
Its single-door swing will require more effort.
PowerVersity.com will earn a tiny commission if you purchase a product from one of the links in this article. This enables us to keep the lights on, but it does not impact the price you pay. Visit our 
Affiliate Disclosure
 page for more details.
What Is A Counter-Depth Refrigerator: My recommendations for Counter-Depth Refrigerators
1. Samsung 22 Cu. Ft. Fingerprint Resistant Stainless Steel Counter-Depth Side-By-Side Refrigerator: Samsung's 22 cu. ft. The side-by-side counter-depth refrigerator has a beautiful built-in design that can help achieve the seamless fit you desire. This sleek and streamlined exterior design features beautiful flat doors, an easy-open recessed handle, a minimal display dispenser, and a lovely finish that blends beautifully into your cabinetry, adding function and style to your kitchen.
2. LG 24 Cu. Ft. PrintProof Stainless Steel Smart Wi-Fi Enabled Counter-Depth Refrigerator With Craft Ice Maker: The LG 24 Cu offers good looks and cool innovations energy-efficiently. Having the LG refrigerator can be likened to having a personal assistant in the kitchen.
3. GE Profile ENERGY STAR 22.1 Cu. Ft. Fingerprint Resistant Stainless Steel Counter-Depth French-Door Refrigerator With Hands-Free AutoFill: This refrigerator has many cool features, making it an exciting option. It has the perfect counter-depth form. Its clean lines and smooth modern structure should fit into your kitchen perfectly.
4. Samsung 23 Cu. Ft. Fingerprint Resistant Stainless Steel French Door Counter Depth Refrigerator With CoolSelect Pantry: The design of the Samsung 23 is simply stunning. It easily blends in with most kitchen layouts. Inside the refrigerator, you'll be surprised by how much space it offers. You can allocate a spot for everything.
My Final Thoughts On What Is A Counter-Dept Refrigerator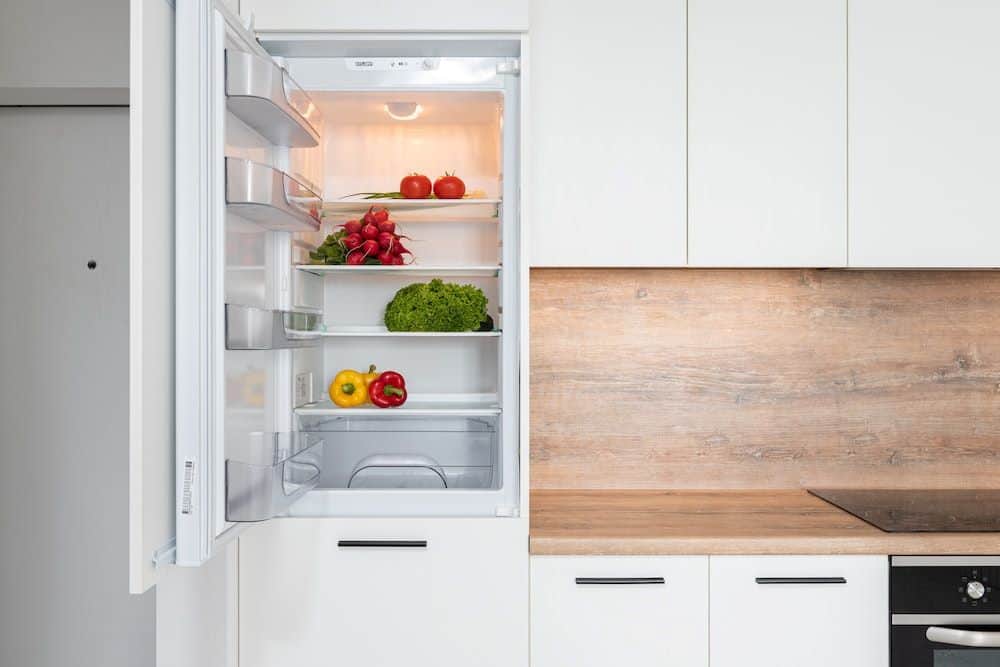 Counter-depth refrigerators are one of the best appliances you can equip your kitchen. They can become more than just an accessory for your kitchen if carefully selected and installed.
With their built-in designs, they can fit perfectly into your kitchen while adding an extra touch to the aesthetics of your kitchen layout. If you have space in your kitchen, counter-depth refrigerators are worth considering.
I hope you found this article helpful.
If you found this guide helpful, kindly review this buying guide with the "Leave a Reply" form found at the end of this page.
You may want to read other articles like this. Please visit the pages below:
5 Best Battery-Operated Air Conditioners